Do You Have A Tint Project We Can Help With?
Pro-Tint Offers You Cutting Edge Technology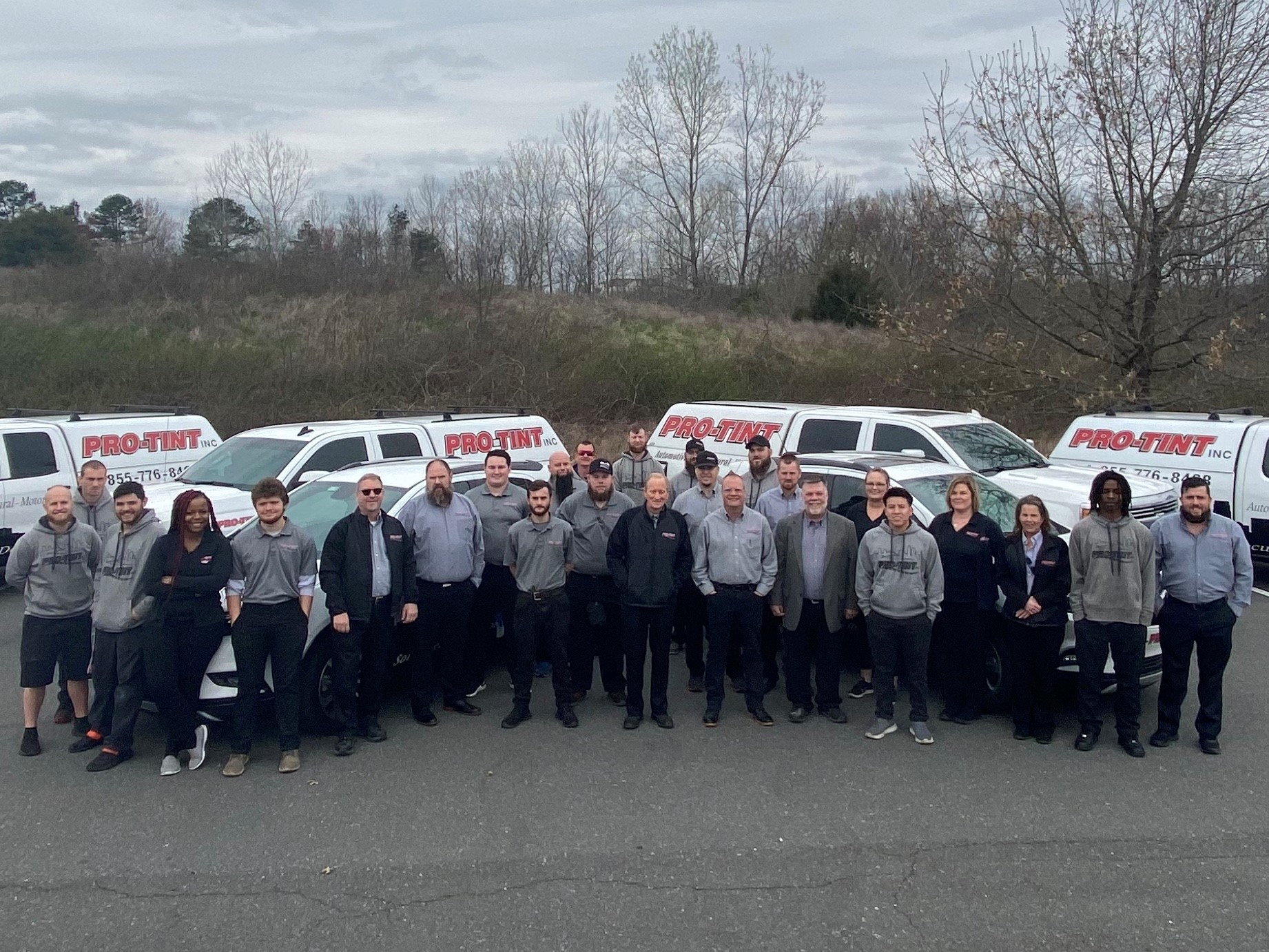 Meet Our Team
Professionals who excel at creating solutions by providing the very best products, customer service, and quality work. Our people are our difference.
Expert Partners Agree
"Professional in every way. Top notch products with Top notch warranty."
"The Racing Dept at Protint were awesome, quick, and courteous. I will be returning."
Pro tint is awesome! Clean work, super nice, i am very happy with how my vehicle turned out, i would recommend to anyone!
The Entire Staff at Pro-Tint in Concord, NC was fantastic! We drove our corvette all the way from Atlanta to Concord simply due to their reputation & we were not disappointed! The Customer Service provided by Parris from booking our appointment to greeting us at the door was terrific! The workmanship by Adam & his crew for the tinting and by Andrew for the tear-offs was beyond reproach! The entire crew treated us as if we had been long-time customers even though they just met us. We first learned of Pro-Tint in Concord due to the cool tear-offs that made so much sense to protect our windshield…. then we learned of the Stratos Formula 1 tinting product and decided to make the drive. They took professional care of the car, explained the product & care of it & were professional, courteous, friendly, efficient and simply wonderful all the way around! Thank you, ALL at Pro-Tint & especially Andrew for your hospitality that went above & beyond all expectations!
I have nothing but great things to say about my experience here. They beat every other quote I received, yet the quality is top-notch. I had a full-frontal clear bra installed on my car. . Paula and Pete were knowledgeable, friendly, and very accommodating. My bra looks impeccable and I couldn't be happier. From here on out, Pro-Tint will be my first stop after every car purchase.
I have been a repeat customer for several years now, always very friendly folks working there, very good prices, and very timely service, I would definitely recommend Pro-Tint to you, and have to many people I know.
5 STARS for Pro Tint! Installer Bobby gave me a quote and was able to complete the install on the same day! Customer service was strong and prices are very reasonable. They get my top recommendation.
Took my 2017 SRT Jeep to Pro Tint. I made this choice after using the competition for many years, Pro Tint uses a better product for a lot less! The shop is clean. The installation was very fast, an hour and a half. Very happy with the Llumar ceramic tint far superior to all the other products used around town, after a couple days and it fully set up it looks fantastic! The warranty is the best on the market bar none. Will be taking them another car soon.
Excellent service. Alex was very clear and concise about what he could and couldn't do with my car. I arrived early for my appointment and they started right at the appointed time. All options were explained to me and the final product was flawless. Highly recommend.
We are very pleased with Pro-Tint! Bobby did a great job installing the tint on our windows. We had frosted tint added to our master bath window and love the amount of light streaming in as well as the privacy it provides. The tint added to the windows along the backside of our house looks great too. The sunlight still shines through but we're glad our wood floors are protected from sun damage and fading. Thank you!
Thank you Bobby! My wife and I had reached out to several tint companies for quotes and we received quotes that varied dramatically. The good news is that we had asked for 3 quotes and had 3 company representatives come to our house, measured the windows, and showed us various product lines. The tint products were rather similar but the one thing that led us to Pro Tint was Bobby. He was professional, knowledgeable, respectful of our time, and not only was he the sales representative, he was the actual installer which made us feel good about our decision. Bobby did a fantastic job installing the tint and not only do our windows look great, the tint dropped the temperature inside our home and we were able to cut back on our AC usage. Thanks again Bobby!!
Had the windows in my lake house tinted yesterday. Bobby and Cody did an excellent job! I requested they come back next week to tint the remaining 6 windows to completely reduce the glare and radiant heat. Very professional work and wonderful product.
Great place to get your windows tinted. Great customer service, nice and clean reception area. I called Tint World they didn't seem interested in talking about the tint. I wouldn't recommend them to anyone. I came to Pro Tint and they was concerned about what I wanted done. James at Pro Tint was the best. Thanks James, for excellence customer service.
Great service. My wife and I have been using them for nearly a decade. Only one incident where a van window peeled at a corner, but they fixed it without any hassle. We have had two houses and four cars done by them and plan to continue using their services.
Customer service is outstanding! Very fast and easy to work with!
Trusted Partners
We work with industry leaders locally and nationally to insure the best quality product everytime.